Spooktacular Workouts: Scary Workouts for Halloween
Want something really scary to get you in the mood for Halloween? While you're thinking about snacking on candy corn and your favorite sweet treats, you may want to kick off your countdown with our five Spooktacular Workouts, crafted to scare the socks off of even the biggest exercise enthusiasts. Next time you hit the gym, give one of these five scary workouts a try… if you dare!
Burpees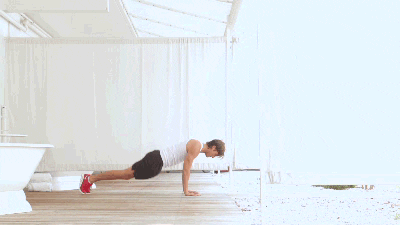 Standing with your feet shoulder-width apart, push your hips back, bend your knees, and lower your body into a squat. Place your hands on the floor directly in front of, and just inside, your feet. Shift your weight onto them. Jump your feet back to softly land on the balls of your feet in a plank position. Your body should form a straight line from your head to your heels. Then, jump your feet back so that they land just outside of your hands, reach your arms overhead and jump into the air. Land and immediately lower back into a squat for your next rep.
Rapid alternating step-up

You can perform this on any type of step that's approximately 6 inches high. Simply alternate stepping up and down on the step as fast as you can for 30 seconds, increasing the time to 60 seconds per set as you progress. Switch your foot halfway through the set and repeat each 3-5 times.
Clapping Push-Up

Start with a standard push-up, but on the way up, push off the floor hard enough that the upper body takes flight. Bring your hands together mid-air for a single clap, then return to starting position. Aim for 10-15 reps.
Side Plank Star

Starting in a traditional side plank (forearm on the ground and body stiff as a board), lift your top leg straight up while keeping the rest of your body still. Hold for 2 seconds, then bring the top leg back down to meet the other leg. With each rep, lift that leg a few inches higher. Repeat for 10-15 reps, then switch sides.
Plank Balance

While in a traditional plank position with the back flat and forearms planted on the floor, simultaneously lift your left arm and right leg until they are parallel to the ground. Hold for a few seconds, then switch, keeping the core tight and hips steady. Aim for 10-30 reps.
How will you keep fit this fall? Let us know and follow us on Instagram, Facebook, and Twitter for more recipes, workouts, and everything #TeamEnlightened.
Comments are closed